Wildfire Mala Style Necklace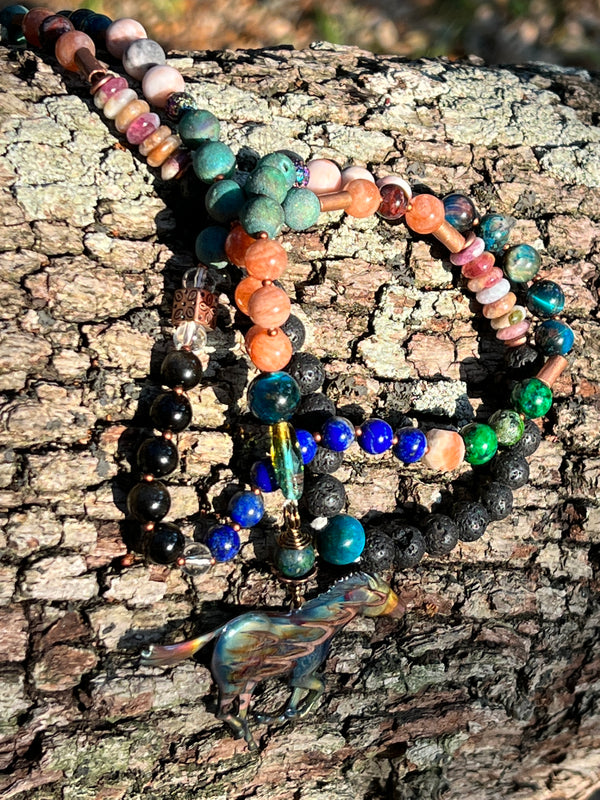 This unique mala style necklace captures the beauty and spirit of the wild mustang. The wild horse pendant is copper and has a flame patina and is hand forged by a Minnesota craftsman. The horse is 2"x2.5".  
Teresa used high quality semi-precious stones and Ethiopian copper tube accents, as well as Czech glass beads and is hand tied. The following beads were used in this gorgeous piece:
Lapis Lazuli 
Golden Obsidian 
Sunstone
Pink Tourmaline 
Pietersite 
Diopside
Blue Tiger Eye
Galaxy Tiger Eye
Clear Quartz
Peacock Ore
Green Druzy Agate 
Pink Zebra Jasper 
Lava Stone (can be used as essential oil diffuser)
  Teresa has been photographing wild horses in Nevada, Utah and Arizona since 2018 and has been in love with them since. Proceeds from the sales of artwork/greeting cards & jewelry help fund our efforts on behalf of America's wild horses. Donation is made to the American Wild Horse Campaign (AWHC). 

Teresa offers a lifetime warranty against breakage. If your piece breaks, which hasn't happened yet, Teresa will restring at no cost to you. *Customer pays shipping and replacement of any lost beads and/or findings*