Teresa did it again! I am over the moon excited about the latest piece she custom made for me. I asked her if she could do a mommy lion with a baby cub to symbolize my daughter and I. (She is obsessed with Lion King) Teresa loved the idea and sent me a sketch and from there I got to follow along through the whole process. She sent me pics at different stages, told me her ideas and asked for my input. It was a lot of fun and amazing to see how talented she is. I wish I could put a picture of it on here so you could see the details... But she used watercolors and acrylic for the lions with handmade papers for the background. The mommy lion is wearing a crown with SWAROVSKI Crystals!!! and then resin over the artwork. It's GORGEOUS!!!! It makes me smile just thinking about it. This artwork will be with me forever and I am so grateful for the time and effort she put into making this. Teresa sure goes above and beyond, you can see it and feel if with her beautiful art! Thank you again.

XOXO Sheila
Sheila D.
www.artheartsoulstudio.com
Teresa Is an absolutely amazing artist. Not only as she technically capable but she puts all of her heart and soul into everything that she does and it really shows. I would not hesitate to recommend her for photography or painting or jewelry. She is so gifted and such a beautiful person.
Joy B.
Just purchased my 3rd bracelet set and wow love it .. super great quality .. way more than I expected.. and price was great.. thank you so much !!!!
John B.

Teresa is an artist, not just a photographer! It's unreal what she can capture through her camera lense. She did a family / pregnancy shoot for me when I was 7months pregnant, those photos will forever hold a special place in my heart.
When my daughter was born , Teresa took pictures of her when she was two weeks old and I can honestly say I have NEVER seen anything so beautiful in all my life !!
I am so grateful that Teresa captured the most special moments of my life. Your vision and creativity is unmatched !
Jessie S.
www.artheartsoulstudio.com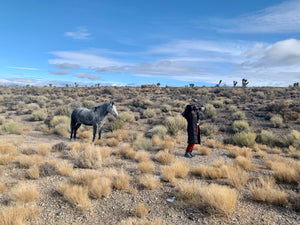 About
Nature and wildlife are the major inspiration when Teresa is creating, whether it is photography, jewelry or art. Teresa began photographing wild horses in 2018 in Nevada, Utah and Arizona. These magnificent animals have become her passion. a portion of proceeds of sales go to help support the American Wild Horse Campaign.